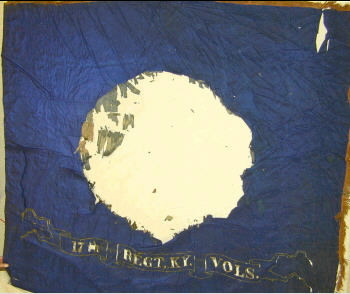 REGIMENTAL COLORS
17th Kentucky Volunteer Infantry Regiment

The above picture is what is left of the Regimental Colors of the 17th Kentucky Infantry. The colors were sewn by the loyal ladies of Owensboro and presented to Colonel McHenry before his departure to Calhoun in the fall of 1861.
The flag is believed by Bill Bright of the Kentucky Historical Society, to be the State Flag of Kentucky. In the center was the Kentcuky State Seal of two men clasping hands and the words, "United We Stand", "Divided we Fall". A unit's colors are marked by the gold fringe on its border.
A sergeant was normally charged with protecting the regimental colors, and they would have been carried by an enlisted men in battle along with the national colors (American Flag with gold trim). These brave men were often volunteers and many were wounded or killed as they became prime targets for the Confederates. One such soldier was Private Amos B. Dicken of Company C. He carried the 17th's regimental flag throughout the Battle of Shiloh. After the battle, he was listed on the sick-list for an extended period of time.
The colors were important in identifying units on the battlefield and serving as a rallying point and to control the movement of the regiment. The enlisted soldiers understood the importance of protecting the colors and ensuring they remained aloft and in the correct position during battle. The regimental colors served as an important motivator for the soldier who took pride in his identification with his regiment.
This recent photo of the 17th's colors were provided by Gene Beals who obtained them from the Kentucky Military Historical office in Frankfort where they are stored.

Sources:
Gene Beals and the Kentucky Military History office
Pension witness deposition of Major Isaac Calhoon for Amos B. Dicken
10:31 AM 5/30/2006